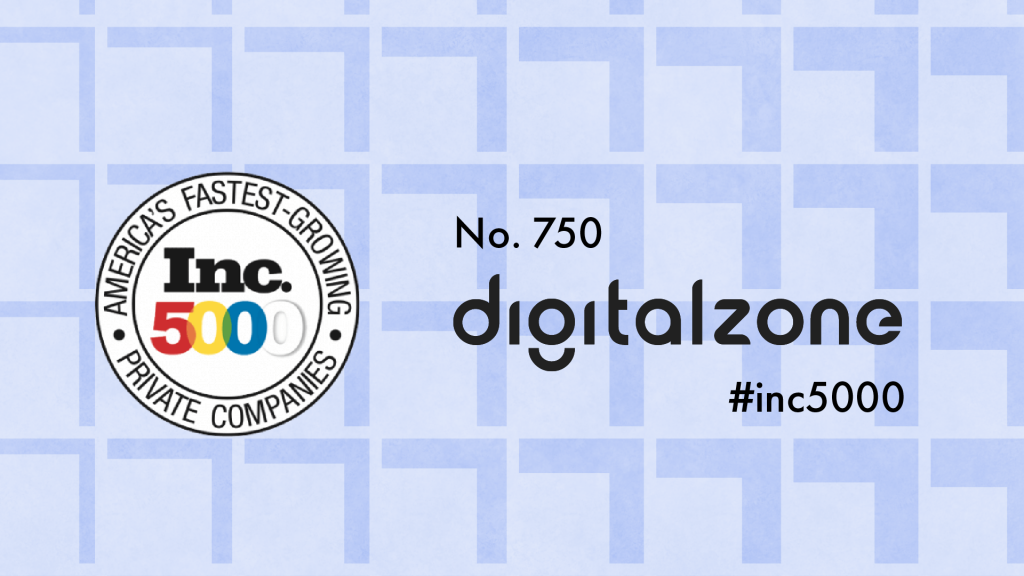 Digitalzone secures prestigious spot on the Inc. 5000 list for 2023.
Published on 15 August, 2023 | Author: Digitalzone
NEW YORK – August 15, 2023 – Digitalzone, the forefront leader in B2B demand generation solutions, is proud to announce its inclusion in the highly esteemed Inc. 5000 list for 2023 in position #750. This exclusive recognition highlights Digitalzone's exceptional growth and commitment to delivering cutting-edge B2B demand gen solutions to its clients.
The Inc. 5000 list, published annually by Inc. magazine, represents a prestigious ranking of the fastest-growing private companies in the United States. This achievement further solidifies Digitalzone's position as a trusted industry leader, setting the company apart from its competitors.
Earning a place on the Inc. 5000 list is a testament to Digitalzone's unwavering dedication to excellence and its ability to navigate the ever-evolving digital landscape. By leveraging a dynamic team of marketing experts, advanced technology, and a customer-centric approach, Digitalzone has consistently driven exceptional results for its clients.
"We are thrilled to be recognized by Inc. magazine as one of the fastest-growing companies in America," said Rishikkes Pawar, CEO of Digitalzone. "This achievement is a direct result of our team's hard work, innovative thinking, and unwavering commitment to helping businesses thrive in the digital age."
Digitalzone's rapid growth can be attributed to its relentless pursuit of providing tailored solutions that align with clients' goals and deliver measurable results. Through its comprehensive suite of digital marketing services, including search engine optimization, social media marketing, content creation, and website design, Digitalzone has enabled businesses across various industries to enhance their online presence and drive sustainable growth.
This accolade serves as an affirmation of Digitalzone's relentless pursuit of excellence, and the company remains dedicated to pushing boundaries, staying ahead of industry trends, and continuously improving its B2B demand gen services.
As Digitalzone continues its upward trajectory, the company remains focused on driving innovation, expanding its client base, and forging strategic partnerships to provide unrivaled value to its customers.
For more information about Digitalzone and its services, visit https://digitalzone.com/.
About Digitalzone
Digitalzone is a leading B2B marketing and demand gen company that specializes in creating demand for products and services through personalized and data-driven campaigns. Founded in 2013 with a global presence, Digitalzone leverages cutting-edge technology and proprietary tools to drive rapid growth for clients. As an independent publisher with complete in-house operations and delivery capabilities across its database containing over 105 million opt-in leads, the company has full control over the entire campaign process and a dedicated client team in place to ensure on-time delivery and overall success. Having delivered over 50,000 campaigns for some of the biggest companies worldwide, Digitalzone has a proven track record of driving growth for clients and continues to expand its footprint in the demand generation space. For more information, visit https://digitalzone.com.
Media Contact
Kate Pietrelli on behalf of Digitalzone
kate@pathadvisors.com
+1 760-518-2633